In accordance with the Department of Education, we aim to promote Fundamental British Values within our federation to ensure children leave our schools prepared for modern life in Britain.  As a federation, we use Jigsaw to teach our PSHE/RSE curriculum and British Values are intertwined throughout our PSHE teaching.  Below is a link showing our Jigsaw topics and how British Values is taught within it.
Our school Vision is 'To love our neighbour, enabling everyone to flourish and reach their full potential.'
Our values as a federation are
Respect
Nurture
Challenge
Resilience
Inspiration
Aspiration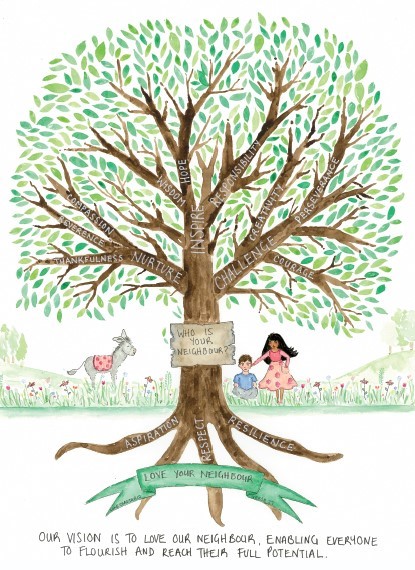 We believe that these values underpin our ethos and teaching within our schools, and they are intertwined throughout promoting British Values within our federation.
As a school, we value and celebrate the diverse heritages of everybody at Woodton and Ellingham. Alongside this, we value and celebrate being part of Britain. In general terms, this means that we celebrate traditions, such as customs in the course of the year, for example, Remembrance during the Autumn term, and the occasional trip to a pantomime around Christmas time (what could be more British than that!). We also value and celebrate national events, such as anti-bullying
Further, children learn about being part of Britain from different specific perspectives, for example, in Geography we learn about our local area and how it differs to other areas of Britain and countries around the world and in Science we learn about British plants that grow around us.
Mutual respect and tolerance of those with different faiths and beliefs