Our Vision
Our Vision is 'To love our neighbour, enabling everyone to flourish and reach their full potential.'
Our inspiration comes from Luke 10:27
He answered, "Love the Lord your God with all your heart and with all your soul and with all your strength and with all your mind; and, 'Love your neighbour as yourself.'"
The vision is shared using the parable of The Good Samaritan.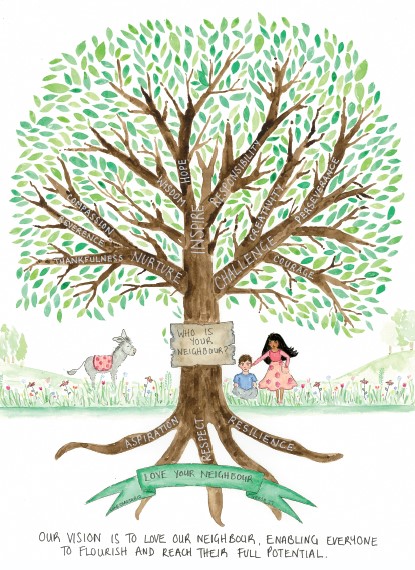 Our Strapline
'Love Your Neighbour.'
Our Values
In the parable of the Good Samaritan the main character shares our values. The Samaritan showed a respect for all living things and with nurture was able to help the injured man. This character also demonstrated that when things are a challenge, we can be resilient and offer love and support for others. We take inspiration from the Good Samaritan and aspire to love our neighbours as he did.