Year 3 and Year 4
Welcome to Swifts!
The class teachers are Mrs Bailey (Monday - Wednesday) and Ms Kenyon (Thursday and Friday).  Mrs Sayer is the class teaching assistant, and Mrs Nina Long (HLTA) is also in the class every Monday & Friday morning. Should you have any questions or concerns, please feel free to come and discuss these with any of the Swifts' team.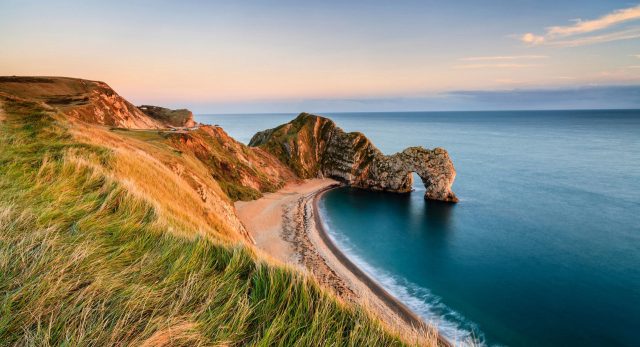 Our topic for the Spring Term is 'A Jurrasic Journey.'
During the term we shall be learning all about the Jurrasic Coast, how fossils are formed and find out about Mary Anning, the first paleantologist, to understand  how fossils are a window to the past. We shall journey back in time to learn about dinosaurs and Stone-Age Man.
Our English work will include reading Stig of the Dump, and writing the diary of a caveman and a character portrait of Stig. We will write an interview with Mary Anning, and newspaper report about her  finding the first Ichthyosaurus fossil. We shall compose descriptive settings, riddles about the coast and dinosaur factfiles. We will also write stories set in the Jurrasic period.
In Science we will study The Big Bang
Theory, compare and experiment with different types of rock and make a model of the Coast's rock formation.
We will learn about weathering and erosion in Geography and study the causes and effects of Earthquakes.
In Art and DT we shall have fun creating charcoal cave-paintings , doing close-observational drawings, and making plaster casts of fossils, painting Seascapes and making a Dinosaur Diarama.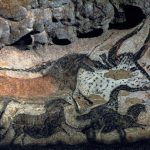 In RE this term we are studying Christianity and The Holy Trinity.
Our project this term is 'Vini, Vidi, Vici.'
We shall be studying the Roman invasion of Britain and learning all about the Roman army, a Roman town, clothes,  pastimes etc.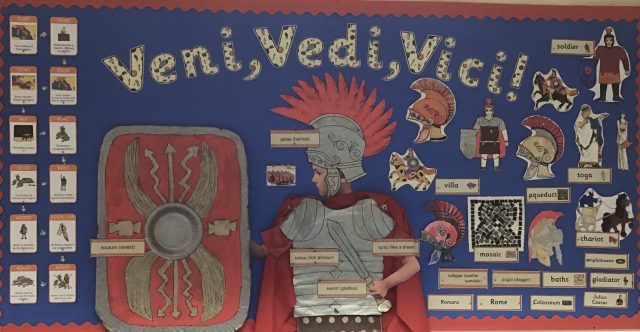 We will write in a variety of genres such as a diary of a Roman soldier, a newspaper report about the eruption of Vesuvius in Pompeii and character descriptions of a Roman Legionnaire.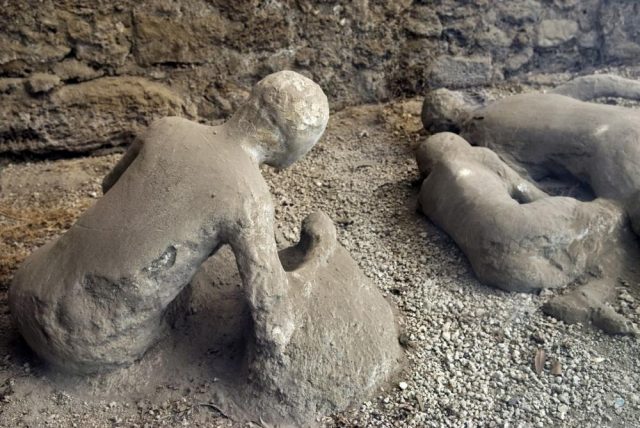 In Art and D.T we will be designing and making Roman mosaics and vases, shields and chariots and cooking Roman food. In Geography we are learning about Italy, Roman settlements and volcanoes.
Our science work is all about Forces, Magnetism and Sound. We will be carrying out experiments to test the amount of friction caused by different surfaces, discovering which materials are magnetic and learning how sound is made and travels.
In R.E. we are thinking about how different religions show their commitment to their Faith. In French we will be having conversations, learning how to greet each other and follow simple instructions, and ask and answer questions.
We will finish the term with a Roman role-play day to celebrate all we have learned.
Homework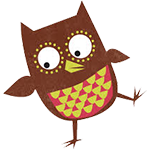 Please remember to read regularly with your child and don't forget to look at the Oxford Owl e books.  Asking questions about the book will also help develop your child's understanding.

Pupils receive weekly spellings and will have a test on these every Monday.  Please spend time to learn them, this could be done by; writing them, saying them verbally, using magnetic letters, making word searches or writing the words in sentences.   If you have any concerns with the spellings please speak to us and look out for the new spelling challenges.
Please encourage your child to go on Maths Whizz for at least an hour a week. Don't worry if they get stuck, the system monitors their progress and will let us know at the school.
Times tables are also very important for your child to learn as these underpin many mathematical skills.
https://www.timestables.co.uk/multiplication-tables-check/ is a suggested website that pupils can work on to practice their times tables.